Bed Bug Control in San Antonio, TX
Effective Bed Bug Treatment for Your Home or Business
Bed bugs used to be something that parents teased children about when tucking them into bed. Our mother or father would tuck us in and say, "Don't let the bed bugs bite!" We'd giggle and roll over to dream without a worry in the world. Unfortunately, there may have been some truth, and a hidden warning, in that playful message.
Bed bugs weren't something that people were afraid of until recently. Over the past couple of decades, the bed bug population has seemingly exploded. If you've found signs of bed bugs or have discovered actual bed bugs in your home, contact Family Pest Control for bed bug control in San Antonio and surrounding areas. Our team is ready to help you get rid of bed bugs!
How to Get Rid of Bed Bugs
Using a vacuum with a HEPA filter is one of the best ways to remove them and their eggs. Therefore, it is important to vacuum every crack, crevice, and upholstered surface in the home. After vacuuming, you should discard the vacuum bag immediately.
Wash all bedding and clothing in hot water and dry them on the highest heat setting for at least 30 minutes. This will kill any bed bugs and their eggs hiding in the fabric.
Use an effective insecticide to help eliminate any remaining bed bugs and their eggs. Be sure to follow the instructions on the label precisely, and never use more pesticide than is recommended.
Our Bed Bug Control Process in San Antonio
Family Pest Control has been treating customers like family since 1981. We're no strangers to bed bugs and have a comprehensive process for finding, eliminating, and preventing bed bug infestations: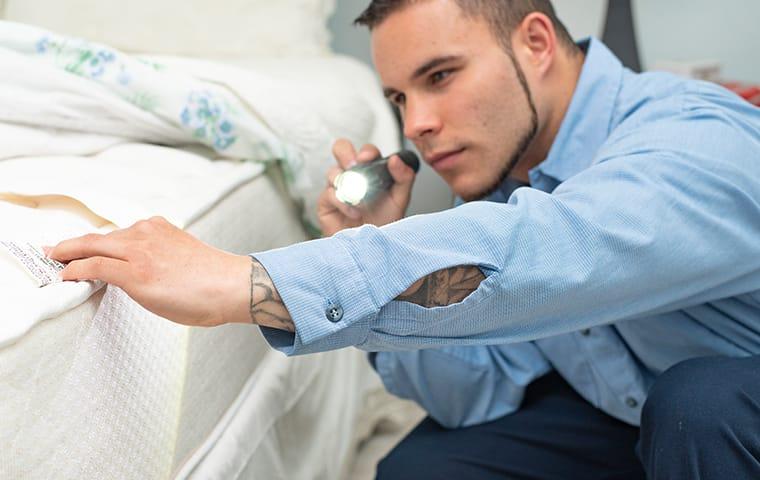 Comprehensive Bed Bug Inspection
If you suspect you have a bed bug infestation, we will start with an inspection. During this process, our team will thoroughly look around your home for bed bugs. If any are present, we will then assess the extent of the infestation so that we can make the best possible recommendation for the next steps.
Inspections from Family Pest Control LLC are free of charge. When we complete the inspection, we will provide you with a detailed plan of action that will include treatment options as well as pricing information.
Long-Lasting Bed Bug Treatment
At Family Pest Control LLC, we believe in using tried and true methods to eliminate and prevent bed bugs—we aren't going to reinvent the wheel. Based on our inspection, we will determine the best way to address and eradicate the infestation.
Whatever cracks and crevices the bed bugs are hiding in, we will find and attack them. In many cases, we treat all mattresses, pet kennels or beds, box spring encasements, and ideal surfaces. Our San Antonio bed bug exterminators will also set up bed bug monitors to keep tabs on the situation.
Follow Up Visit
Bed bugs can be fickle and difficult to remove. A single treatment is often enough, but not always. A Family Pest Control technician will verify the elimination of bed bugs when he returns one weeks after the initial treatment. If there are signs of persistence, your technician will retreat areas of concern.
A few weeks later, 30 days after the first treatment, your technician will return for a final time to prevent bed bugs for the foreseeable future. Family Pest Control technicians are armed with Aprehend® to prevent future problems. (Aprehend® is 100% safe for humans and their pets.)
Get in touch with our San Antonio bed bug control company today to eliminate your bed bug problem quickly and effectively.
We Treat Your Home Like It's Our Own
Family Owned & Operated

As you can tell, family is important to us - so much so, it's in our name! We value your family as much as our own and can relate. We've been family owned and operated for nearly 40 years!

Effective, High Quality Work

Our main goal is to provide you and your family with the safest, most effective solutions for your pest problems. We'll prove it with our work ethic and customer service.

Woman Owned

We are an equal opportunity employer who values strong female leaders, not just as employees but also as customers!
Bed bugs are very small and can be good at hiding. But, even though they are small and sneaky, they do leave signs that they have infested your bed. Below we have four signs to look for in order to catch this nightmare scenario sooner rather than later.
Odor - Bed bugs will emit pheromones that smell like something that is slightly sweet and also a little musty. If you notice this smell, it probably means that your infestation has become pretty severe. Call us today!
Bites - One of the first signs you would notice is bug bites on your skin. Bed bug bites can become itchy from the allergic reaction you would experience from a typical bug bite. Look for 3 bug bites in a line and this will tell you that you have bed bugs as they will eat, "breakfast, lunch, and dinner."
Rusty Stains - Signs of bed bugs can also be rusty stains on your bed. If you shift in your sleep you can crush the bed bugs which leave a rusty stain. If you notice these stains showing up in different places each night, give us a call to inspect your home.
Shell Casings - Bed bugs go through 5 life cycle changes before they become adults. If you notice these exoskeleton shell casings on your bed, it's an early sign that you have a bed bug infestation. Contact us today if you notice these casings.
If you've found signs of bed bugs in your home or business, you need to act immediately. Call our bed bug control specialists today at (210) 762-6991.
The Key to Identifying Bed Bug Problems in Your San Antonio Home
Family Pest Control's Bed Bug Warranty
At Family Pest Control, we believe in treating our customers with integrity. We know that bed bugs are hard to eradicate even with the most effective treatments. That's why we offer a complimentary 6-month warranty on our bed bug treatments. If bed bugs return within six months after the initial treatment, we'll spray again at no additional charge.
Contact our bed bug removal specialists in San Antonio to schedule a service or learn more about our treatment and maintenance plans.