San Antonio Mosquito Control
Stop Mosquito Bites with Professional Solutions
There are over 3,500 different species of mosquitos known to man. These blood-sucking pests can spread deadly diseases throughout livestock and humans. Residents of the San Antonio area are no strangers to these pests. An influx of mosquitos can last for generations as they reproduce, feed, and repeat.
Family Pest Control LLC has been treating mosquito-plagued customers since 1981. We're no strangers to annoying bugs. We take pride in eliminating mosquito problems from our customers' homes.
Contact us today at (210) 762-6991 to arrange a free estimate for mosquito control in San Antonio.
Our Mosquito Control Options
To get rid of mosquitos that are chasing you indoors, Family Pest Control LLC takes on pesky, biting mosquitos with solutions that are designed to eliminate adult mosquitos and stop them from breeding!
Monthly Mosquito Treatments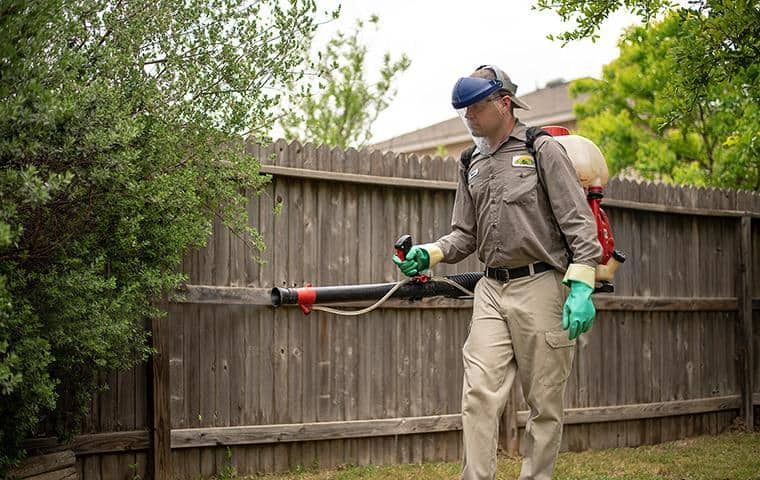 The best way to treat your property for mosquito infestations is by blanketing the entire area with our effective mosquito misting treatments. Our experienced technicians will focus on areas where mosquitoes like to rest and mate, including trees, shrubs, gutters, eaves, overhangs, and patios. Standing water can be a hot bed for mosquitoes, and our technicians know to address these areas as well. We talk with homeowners to ensure the safety of pets while exterminating mosquito larvae.
We Treat Your Home Like It's Our Own
Family Owned & Operated

As you can tell, family is important to us - so much so, it's in our name! We value your family as much as our own and can relate. We've been family owned and operated for nearly 40 years!

Effective, High Quality Work

Our main goal is to provide you and your family with the safest, most effective solutions for your pest problems. We'll prove it with our work ethic and customer service.

Woman Owned

We are an equal opportunity employer who values strong female leaders, not just as employees but also as customers!
Mosquito Frequently Asked Questions
How Much Do Monthly Mosquito Misting Treatments Cost in San Antonio?
Standard mosquito treatment pricing is $85 per month per treatment for properties up to 5,000 square feet in size. It's $10 more for every 1,000 square feet beyond the initial 5,000. Should you choose to sign up for 6 or more treatments, we'll reduce our fee to $75 per month per treatment. Our extra square footage charge remains the same.
Are Mosquitoes in San Antonio Even Dangerous?
The threat that mosquitoes carry diseases harmful to humans or livestock is a real one. There is a long list of diseases that mosquitoes can spread, some of which can be deadly.
For more information, check this publication released by the Texas Department of Health and Human Services regarding the genuine threat of mosquito-based West Nile virus.
At Family Pest Control LLC, we are happy to assist with all of your San Antonio mosquito control needs. Just give us a call at (210) 762-6991.