Rodent Control in San Antonio, TX
Don't Let Mice & Rats Take Over Your Home, Family Is Here to Help
Pest control doesn't stop at insects. Family Pest Control has been waging war against rodents in San Antonio for nearly 40 years. House mouse, roof rat, and Norway rat populations are all a result of a booming industry, human population bursts, and carelessness with waste and garbage.
If you're hearing activity in your walls, have discovered rodent droppings in your pantry or elsewhere in your home, contact the San Antonio rodent control experts at Family Pest Control right away. We have the tools, products, and expertise to solve your rodent problem, no matter how severe!
Our Rodent Control Process
We're no stranger to the unfortunate rodent problems our customers frequently have. To make our customers feel like family, we make it a point to include two complimentary follow-up visits in our standard rodent control service package.
Our package includes a comprehensive process for finding, eliminating, and preventing rodent infestations.
Rodent Inspection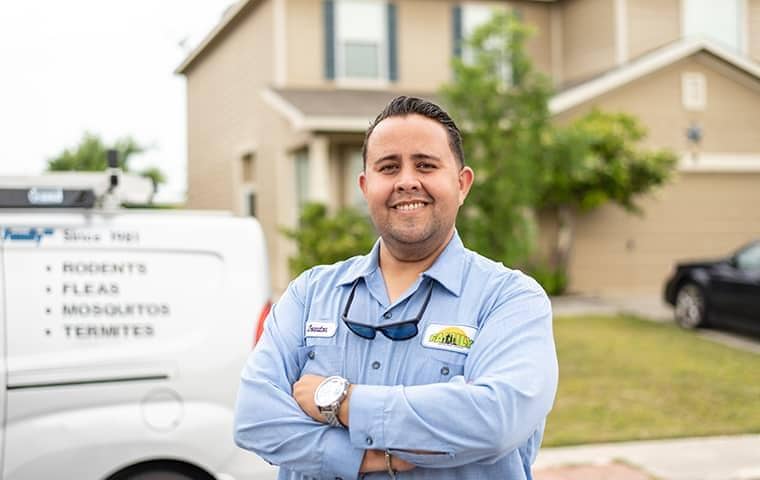 We offer inspections. For the first part of the inspection, our skilled technicians will complete a thorough investigation of your property.
We will examine every crack, crevice, cabinet, cupboard, and outbuilding. Determining what type(s) of rodents are active in your home and on your property, and how severe the infestation is, will dictate the type of treatment methods used.
The second part of the inspection determines how rodents are getting into your home, and the kinds of damage they've caused. We want you to know if you're dealing with anything serious that needs immediate repair.
We Treat Your Home Like It's Our Own
Family Owned & Operated

As you can tell, family is important to us - so much so, it's in our name! We value your family as much as our own and can relate. We've been family owned and operated for nearly 40 years!

Effective, High Quality Work

Our main goal is to provide you and your family with the safest, most effective solutions for your pest problems. We'll prove it with our work ethic and customer service.

Woman Owned

We are an equal opportunity employer who values strong female leaders, not just as employees but also as customers!
Wondering if your home has rodents or not isn't something you typically think about on a day to day basis. But how can you tell if these pesky pests are in your home or not? Below we have provided 3 signs to look for in order to know if you have rodents or not.
Rodent Droppings -
If you notice small droppings in your home, that's a pretty clear sign you have rodents in your home. If they are dark and moist, this means they are fresh. If they are old and gray, they have been there for a while. Contact us today if you see droppings.
Chew Marks -
If you notice that there are chew marks or holes in your floor boards, you most likely have rodents. Often times, fresh gnaw marks will be lighter in color and can be an indication of infestation.
Scratching Noises -
If you hear scratching in your home's walls or beneath the floor boards it could be rodents you are dealing with. Contact us today if you hear these noises.
Initial Rodent Treatment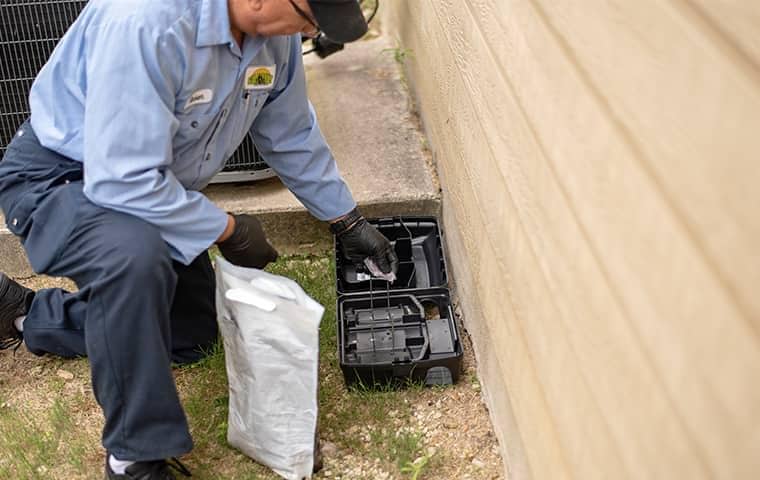 The first treatments can take place on the same day of the inspection in order to get the quick results you need. Our Family Pest Control professionals will install rodent traps where there is frequent activity.
Follow Up Treatment
On the follow-up visits, we will remove any caught rodents and reset, or replace, traps as needed. During our follow up visit, we'll also provide you with an estimate for the exclusion and possible rodent cleanup, if needed. If extra service visits are necessary, we will bill customers separately.
Rodent Control Frequently Asked Questions
What Is Rodent Exclusion?
Rodent exclusion is both reactionary and preventative. Reducing the conditions that may be attractive to mice and rats, and forcing them to move on, while preventing the potential for future infestations, is one of the most effective ways to rid an area of rodents.
Are Rodent Droppings Dangerous?
Yes. Droppings can transmit dangerous bacteria and diseases to humans.
Rodent droppings are especially dangerous if they get into your food. Large amounts of excrement can even produce fumes that are toxic to humans or pets.
For any questions on rodent control, call us today at (210) 762-6991or contact us online!