Carpenter Ant Control in San Antonio, TX
Stop Carpenter Ant Damage with Help from Family Pest Control LLC
Carpenter ants are a real hazard for people living in the great state of Texas. As the human population of San Antonio blooms, so does its number of carpenter ants. Known for rapidly moving in, creating nests inside wood and hollow sections of foundations, and being shockingly resilient, there are over a thousand different species of carpenter ants!
The most common around here are red and black carpenter ants, but with numbers and resiliency as mentioned above, it's a wonder that more people don't call for our experts at Family Pest Control LLC more often! If you've discovered large ants in your home, our San Antonio carpenter ant control specialists are ready to help.
Get started with a free estimate. Call (210) 762-6991 or send us a message online.
Our Carpenter Ant Control Process
In business since 1981, we're no strangers to carpenter ants, and we have a comprehensive process for finding, eliminating, and preventing carpenter ant infestations.
Carpenter Ant Inspection

Expect the most thorough of carpenter ant inspection services from our experienced technicians. We'll come and conduct a full interior and exterior inspection to determine if carpenter ants are a problem for you. After assessing the severity of your infestation, we'll figure out the extent of the damage so any future issues do not blindside you. Once our technicians deliver their fully comprehensive report to you, they'll work with you to determine the best course of action.
One-Time Carpenter Ant Treatment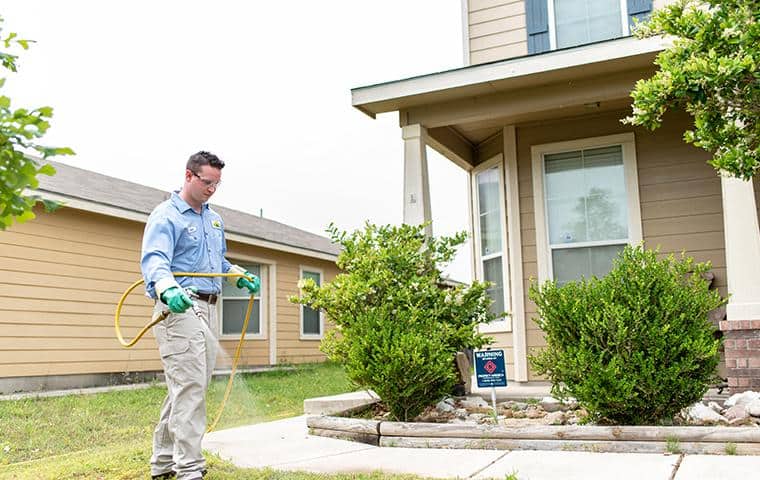 A licensed technician will treat the exterior of your home first, preventing further exposure to the various colonies that you likely have living on your property. We'll treat the foundation, gutters, window, and door frames, as well as any landscaping that may be harboring these unwanted pests. Our technicians know that the ground level of your home is not the only exposure point. We'll dust treat your attic storage space and treat shrub and tree bases, as well as fence lines. Prevention is as important as initial removal.
Family Pest Control LLC's Carpenter Ant Control Warranty
All carpenter ant treatments are one-time services that come with a six-month warranty. If ants come back within six months of our departure, we will too!
We Treat Your Home Like It's Our Own
Family Owned & Operated

As you can tell, family is important to us - so much so, it's in our name! We value your family as much as our own and can relate. We've been family owned and operated for nearly 40 years!

Effective, High Quality Work

Our main goal is to provide you and your family with the safest, most effective solutions for your pest problems. We'll prove it with our work ethic and customer service.

Woman Owned

We are an equal opportunity employer who values strong female leaders, not just as employees but also as customers!
Signs You Have Carpenter Ants
Having something as small as ants destroy your home can be very frustrating. Carpenter ants prefer rotting wood but can also move something like softwood and even hardwood. These ants can slowly weaken parts of your home like wall supports which can be very dangerous. Below are 3 signs to look for to know when you have carpenter ants.
Wings - While ants are in the mating process they lose their wings. Often a clear sign of a carpenter ant problem is finding these wings that have been shed.
Sawdust - As carpenter ants are eating through different parts of your home, they will make tunnels and as they make these tunnels they leave behind sawdust or frass. If you notice sawdust piles or frass in your home or on the exterior of your home, contact us and we can help.
Visible Damage - A clear sign that you are dealing with carpenter ants is visible damage to your home. Another sign that you are dealing with these pesky pests is that the tunnels carpenter ants make are much smoother than termite tunnels which look more gnarled and gritty.
Carpenter Ant Frequently Asked Questions
How Much Does Carpenter Ant Control Cost?
Pricing for our one-time carpenter ant treatment starts at $325 for up to 3,000 square feet of floor space. Cost typically increases an additional $10 per 1,000 square feet for structures over 3,000 square feet. Contact us for more information about carpenter ant control pricing for your home!
How Can You Tell the Difference Between Carpenter Ants and Termites?
Many people struggle to determine whether they're dealing with carpenter ants or termites. The main difference between the two is that termites eat wood and carpenter ants don't. Look for holes where ants may bore into wood, leaving behind a pile of sawdust. Proper identification is a must when it comes to carpenter ants and termites. The method for eliminating carpenter ants is different than termite control solutions.
What Does Carpenter Ant Damage Look Like?
The most telling sign is sawdust from ants creating tunnels in the wood. They can establish full colonies with intricate tunnels, leaving wooden foundations weak and unstable.
Protect your home from severe damage. Call (210) 762-6991 for carpenter ant control in San Antonio.