What Types of Rats Are Common in San Antonio?
There are two types of rats that are common in San Antonio - the Norway Rat and the Roof Rat. While these rats may be hard to tell apart at first glance, their behavior is a good indicator of their type.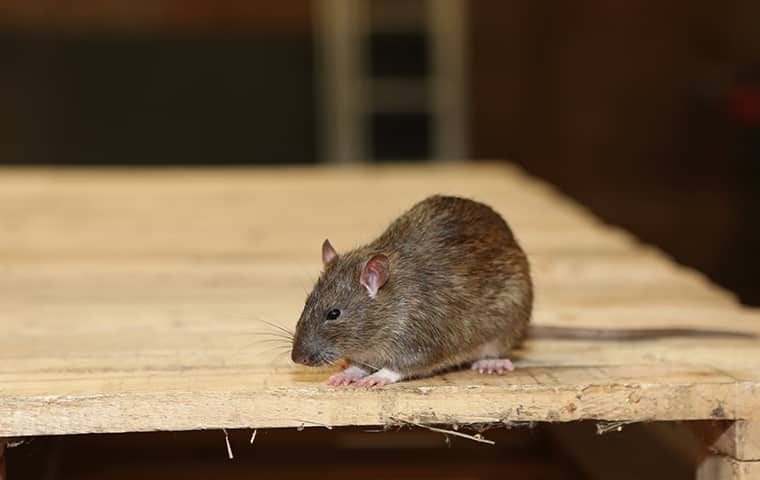 Norway Rats
Norway rats can range in size from six to eight inches, with some growing as large as eleven inches. Their tails are shorter than their bodies, averaging six inches in length. These long rats have brown or grey fur, with a smattering of black hairs throughout. Their undersides are usually lighter in color than the rest of their bodies. Their muzzles are short and blunt, and they have ears that are small and hairless. Norway rats have small eyes and are often called sewer rats because of their choice of habitat.
Roof Rats
Roof rats are black or dark brown, which is why they are often called black rats. They have pointed muzzles and large ears. Their eyes are large and dark. Roof rats have tails that are about the same size as, or longer than, their bodies. They can average in size from about five to seven inches with a six to eight inch tail. Roof rats are long and thin, which makes them adept at climbing.
How Do I Tell the Difference Between Norway Rats and Roof Rats?
There are several distinct differences between Norway rats and roof rats. The most obvious distinction is their appearance. Roof rats are much darker in color than Norway rats. Norway rats tend to have heavier body types than roof rats. Roof rats' facial features are larger and pointier than the features on Norway rats faces.
Beyond their appearance, these two rat types have widely different habits. Norway rats are excellent swimmers and can easily move through water and sewers. Their heavier bodies prevent them from doing much climbing. Roof rats, as indicated by their name, tend to navigate higher areas, including roofs and trees. Roof rats are excellent climbers.
Are Rats Dangerous?
Don't let the diminutive size of house mice fool you; they are dangerous nuisances. They carry ticks and fleas and spread bacteria and illness throughout your home through urine and droppings. Their urge to gnaw means they will indiscriminately bite and chew through anything, including your home's electrical system, storage containers, and pantry goods. While not aggressive, they will bite other beings as a defensive mechanism.
Why Do I Have a Rat Problem in My Home?
Rat populations are high in the San Antonio area. You may be unlucky and living in a neighborhood or community where rat activity is rampant. You may be attracting rats to your home with some common mistakes. By taking precautions and following the tips outlined below, you can help make your home less attractive to rats.
How Do I Get Rid of Rats?
Professional pest control is the most reliable way to get rid of rats. Family Pest Control offers professional rodent control that includes several service visits. On the initial service visit, rat traps are installed in high (rodent) traffic areas. Traps are not set at this time, allowing rodents to investigate the traps and get used to their presence. On the follow up visit, we set the traps and advise whether further action is necessary.
Does Family Have Any Rat Prevention Tips?
Family Pest Control offers several rat prevention tips to keep your home free from these invaders:
Minimize food and water sources around your home.
Seal cracks and obvious openings to exclude rats.
Keep clutter to a minimum, and clean up frequently.
Store trash in containers with tight-fitting lids.
Use screens, vent covers, and chimney caps wherever possible.
We Treat Your Home Like It's Our Own
Family Owned & Operated

As you can tell, family is important to us - so much so, it's in our name! We value your family as much as our own and can relate. We've been family owned and operated for nearly 40 years!

Effective, High Quality Work

Our main goal is to provide you and your family with the safest, most effective solutions for your pest problems. We'll prove it with our work ethic and customer service.

Woman Owned

We are an equal opportunity employer who values strong female leaders, not just as employees but also as customers!

Veteran Owned

At Family Pest Control, not only do we support your family and our community, but we also support our troops. We love to support veterans and veteran causes any way we can!
Top Tier Service

"We could not be more pleased with this top-tier service."

- Pablo M.

Exceptional Customer Service

"These guys are a prime example of exceptional customer service! It is now Saturday night and I can say with relief my apartment is nowhere near the way it was yesterday!"

- Monica A.

Scheduling Was Very Easy, Everyone Is Friendly and Helpful.

"The technician arrived on time and was professional, friendly, and helpful."

- Nick M.

Prompt and Polite

"Overall a great service, good value, and very polite and knowledgeable staff."

- Rosie K.

Top-Notch Service

"Very professional staff and friendly always on time and great communications via email phone and text messages to remind me of any appointments and services."

- Eva C.