Fire Ant Control in San Antonio, TX
Customized Treatments at Competitive Prices
What's small, red, and stings all over? If you have ever been stung by a fire ant, you will know the painful answer to this question. There are over 200 kinds of these fiery critters, which are not nicknamed on account of their color, as many people have come to believe. In reality, these ants are appropriately named for their horrendous, stinging bite. If you've had the misfortune of accidentally stepping on a fire ant nest, you know that you will definitely never make that same mistake again. Some of the 200 species you may have encountered especially seem to like the environment of Texas, and, like the rest of our state, they grow bigger and stronger than others around them. Once you have been stung, your skin will feel like it is being doused in a scorching fire for hours afterward, or even a couple of days.
This is why our Family Pest Control LLC experts are so determined to help your cause. You need to completely remove all these pests off your property by seeking the best fire ant control services in San Antonio. We can help you eliminate these burning red insects from your property and keep you and your family safe from their vicious bite.
Call us today at (210) 762-6991 to get fire ants off your hands, and everywhere else.
How We Eliminate Fire Ants
One difficulty with fire ants is that, despite their red coloring, they are less visible than other pests unless they are literally crawling all over you. It often requires a bit more work to detect them, except in the case where they have built large, visible mounds on the surface of the earth.
Since fire ants do not often live in distinct locations like a building's foundation, or even in a compact wooden structure, they can be quite spread out. In order to completely get rid of them, it becomes necessary for our certified experts to carefully examine all areas of your whole backyard, including your flower beds, lawns, and around your shrubs. This "blanket-like" coverage is the only way to completely exterminate as well as halt any infestations in the future. It is also the least costly and expensive method for destroying fire ants.
Count on Us for Pest Control
Our business has been around for a long time, serving customers by destroying infestations of fire ants ever since 1981. This is why you know you can count on Family Pest Control LLC for fast and reliable aid. We are determined to give you all of our experience and resources for fire ant control in San Antonio.
Once our reliable San Antonio ant control technicians have completely treated your whole home and outdoor property, you can count on it being free from fire ants for at least an entire year, and that includes new nests. If, for some reason, these stubborn critters have tried to creep back within a year's treatment, you can count on our technicians returning too, because we refuse to lose.
Recommended Reading
Contact us now at (210) 762-6991 to get rid of pesky fire ants fast, before they blaze through your property.
We Treat Your Home Like It's Our Own
Family Owned & Operated

As you can tell, family is important to us - so much so, it's in our name! We value your family as much as our own and can relate. We've been family owned and operated for nearly 40 years!

Effective, High Quality Work

Our main goal is to provide you and your family with the safest, most effective solutions for your pest problems. We'll prove it with our work ethic and customer service.

Woman Owned

We are an equal opportunity employer who values strong female leaders, not just as employees but also as customers!
Frequently Asked Questions
How Do I Know If I Have Fire Ants?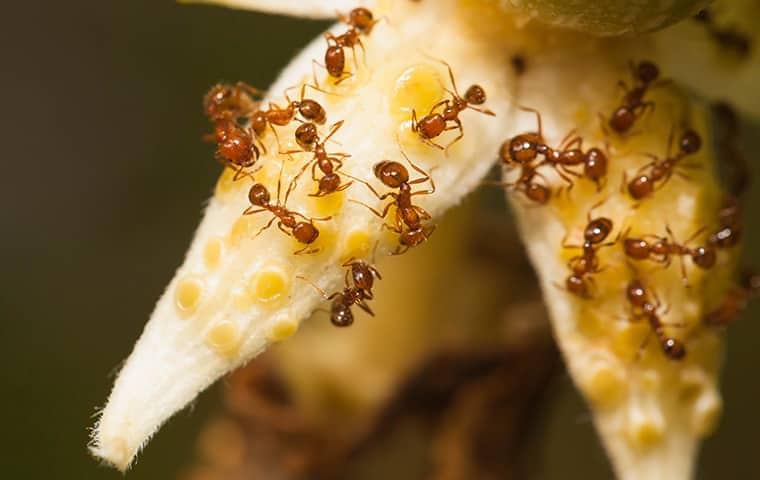 Fire ants can be identified by their reddish-brown body and stingers. They build visible mounds that can be as large as 18 inches high and 30 inches wide. Fire ants prefer to nest in sunny, wide-open areas like lawns and open fields.
How Much Does Fire Ant Treatment Cost?
The average cost of fire ant extermination is around $150. However, the end cost of fire ant treatment is entirely dependent on the size of your property and the severity of the infestation. Larger infestations may take several rounds of treatment before the fire ant problem is under control. Call Family Pest Control to conduct an inspection of your property so that we can give you a quote on our fire ant control services.