Common Lawn Pests in the San Antonio Metro
Lawn care and maintenance is a serious concern for many homeowners. While many of our services aim to keep pests out of your home, some of our services are exclusively for lawn care. During the summer months, grubs, beetles, and chiggers can wreak havoc on your landscaping. Our technicians are on call and ready to treat for these common pests in the San Antonio area.
Grub Worms
Grub worms are the larval stage of many common lawn pests, such as Japanese and June beetles. The grubs' staple diet consists of plant roots. When your lawn has a lot of grub worms, predators like skunks may frequent your property looking for a free meal. One of the tell-tale signs of grub hunting is the appearance of holes across your lawn that are three to four inches deep. Usually, if you get rid of the grubs in your yard, skunks and other predators will move on looking for easier hunting.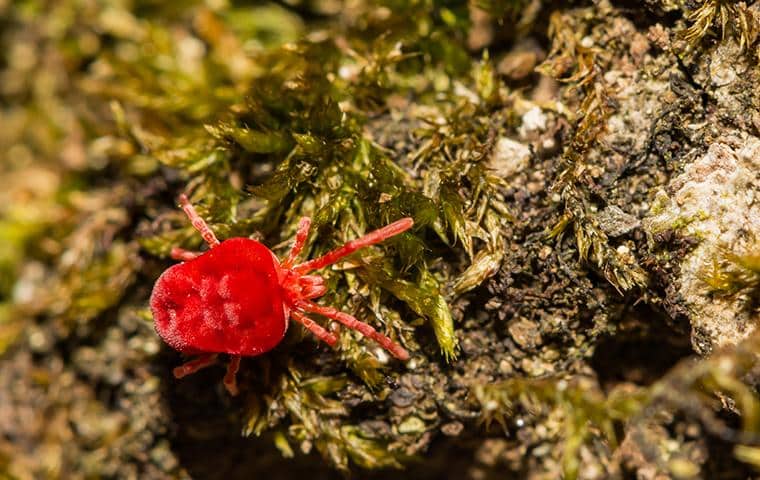 Chiggers
These small, red insects plague San Antonio during the spring and summer months. Gardeners may remember them, as their bites are intensely itchy. Chiggers are not a type of insect, rather an immature form of harvest mite. Not only are they annoying as nymphs, but as they grow, they begin to eat plant matter. Family Pest Control has a treatment method that involves spraying to eradicate these pests.
Chinch Bugs

Chinch bugs are tiny insects measuring in at under 1/8th of an inch in length. Individual insects may be difficult to spot in your lawn. One of the signs of chinch bugs, though, is dying grass. Chinch bugs feed by sucking moisture from small plants. As part of their feeding process, these insects inject a solution into the plant that loosens it from the soil. This can cause brown patches to spread across your lawn. If you look closely at the base of the plants, you may see these tiny insects clustered about. An easier method for detecting them is to dump a bucket of water on the affected plants. The insects will float to the surface and become much more visible.
Are Lawn Pests Dangerous?
Common lawn pests like grub worms, chiggers, and chinch worms can do serious damage to your lawn. They chew through sod and eat plant roots. Damaged root systems can lead to brown spots and dead grass and ornamental plants. This can be unsightly and expensive to fix.
How Do I Get Rid of Lawn Pests?
Family offers preventative lawn pest control services that treat for common pests like grubs. We recommend regular inspections and spraying to make lawn maintenance easier for you. Our treatment plans focus on lawns, but we will customize our plans to fit your needs. We also provide services that include treatment for lawn diseases and moisture control issues.
Poor irrigation is one of the leading causes of brown spots and irregular plant growth. Our technicians will inspect your lawn and discuss the available options. Some of our plans include improving irrigation, increasing moisture retention, and distributing rainwater more effectively. Our technicians will walk you through the best options for your lawn.
Does Family Have Lawn Pest Prevention Tips?
Regular maintenance and inspections are key to keeping your lawn healthy. This is important during the dry summer months, when plants are most vulnerable. Regular spraying can stop infestations from developing and help your lawn to thrive.
We Treat Your Home Like It's Our Own
Family Owned & Operated

As you can tell, family is important to us - so much so, it's in our name! We value your family as much as our own and can relate. We've been family owned and operated for nearly 40 years!

Effective, High Quality Work

Our main goal is to provide you and your family with the safest, most effective solutions for your pest problems. We'll prove it with our work ethic and customer service.

Woman Owned

We are an equal opportunity employer who values strong female leaders, not just as employees but also as customers!

Veteran Owned

At Family Pest Control, not only do we support your family and our community, but we also support our troops. We love to support veterans and veteran causes any way we can!
Top Tier Service

"We could not be more pleased with this top-tier service."

- Pablo M.

Exceptional Customer Service

"These guys are a prime example of exceptional customer service! It is now Saturday night and I can say with relief my apartment is nowhere near the way it was yesterday!"

- Monica A.

Scheduling Was Very Easy, Everyone Is Friendly and Helpful.

"The technician arrived on time and was professional, friendly, and helpful."

- Nick M.

Prompt and Polite

"Overall a great service, good value, and very polite and knowledgeable staff."

- Rosie K.

Top-Notch Service

"Very professional staff and friendly always on time and great communications via email phone and text messages to remind me of any appointments and services."

- Eva C.