Leon Valley, TX Pest Control
Local Leon Valley Pest Control Experts
Located just outside of San Antonio is the lovely Texas city of Leon Valley. This family-friendly community has everything its residents need to live a happy, healthy life that includes access to exceptional pest control.
Family Pest Control is the San Antonio area's premier pest control company, with customer satisfaction being our number one goal. We are proud to say that we treat our customers like family and offer guaranteed pest control that is 100% effective.
To learn more about protecting your Leon Valley home through our customized pest control services, contact Family Pest Control today.
Home Pest Control in Leon Valley, TX
At Family Pest Control we understand how important it is to keep your home and family protected from pests. Pests can be destructive, spread disease, contaminate food, and of course, become a considerable annoyance.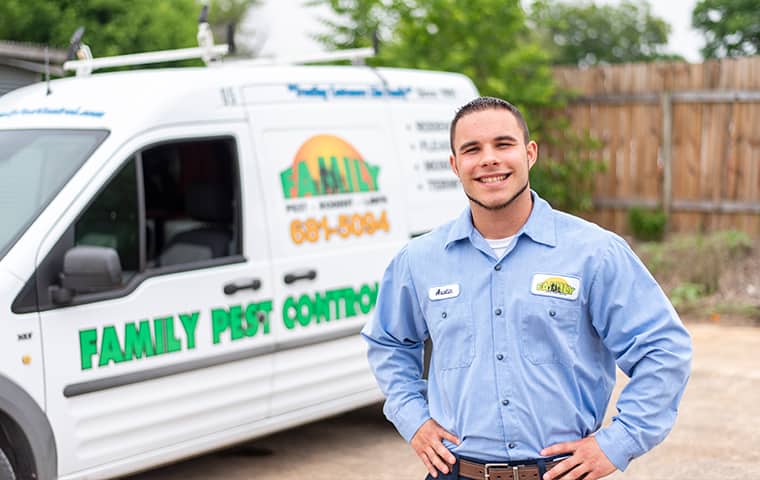 To solve your Leon Valley home's pest problems partner with the area's residential pest control experts at Family Pest Control! We offer a wide range of comprehensive, personalized pest control services that solve even the toughest of pest problems.
Our quarterly service plan is our most popular option and includes interior and exterior treatment, cobweb removal, and more! Not only effective at keeping ants, spiders, and other pests away, our home pest control services are affordable too!
For more information, reach out to Leon Valley's home pest control experts today!

How to Minimize Mosquito Exposure in Leon Valley, TX

Mosquitoes are biting pests that have the potential to spread harmful diseases and parasites to people and pets. It is crucial to make your property as unappealing as possible to minimize your family's mosquito exposure.

One of the best things you can do to deter mosquitoes is to eliminate their breeding sites (standing water) from your property by following these steps:

Keep containers that can collect water upside down when not in use- buckets, baby pools, watering cans, pet bowls, and wheelbarrows.

Remove old tires from your property.

Regularly shake off the water that has collected on trash can lids or tarps.

Change bird bath water frequently or use an agitator to prevent still water.

Change water in baby pools at least every other day.

Maintain gutters to prevent water from pooling in them.

Fill in low lying areas on your property.

Together with eliminating areas of standing water on your property, partner with a professional Leon Valley pest control company to reduce the number of mosquitoes living and breeding on your property.

Family Pest Control offers effective mosquito control in Leon Valley that eliminates adult mosquitoes and stops breeding! To schedule a free estimate, contact us today.

Professional Wildlife Control in Leon Valley, TX

One of the most important reasons you should turn to a professional to handle your Leon Valley home or property's wildlife problem is because wild animals are unpredictable. Trying to eradicate unwelcome wildlife on your own can lead to dangerous situations for both you and the animal(s). The most humane way to eliminate problems with raccoons, and squirrels is to contact company that specializes in Leon Valley wildlife control.

Property owners turn to Family Pest Control to eliminate and prevent problems with wildlife for the following reasons:

■ We have over 38 years of industry experience.

■ We provide an immediate response.

■ Our solutions are affordable.

■ We specialize in offering Eco-friendly, humane, and modern wildlife control strategies.

■ Our exclusion services prevent future wildlife from being able to gain access to your home.

To begin the process of solving your Leon Valley home or property's wildlife problems, contact us today!

Termite Control in Leon Valley, Texas

Guard your Leon Valley property against wood-eating termites, and the extensive damage they can cause, with the help of Family Pest Control. We understand just how stressful a termite infestation can be for a homeowner and therefore provide fast action to minimize damage.

Family Pest Control offers highly effective termite control in Leon Valley. Our professionals are highly trained and knowledgeable about termites and how to eliminate them from your property.

When we arrive, you can expect:

A thorough inspection that will accurately identify whether termites are present or not.

An evaluation of the termite infestation.

A termite treatment plan to be developed.
Contact us to learn more about termite control in Leon Valley today!