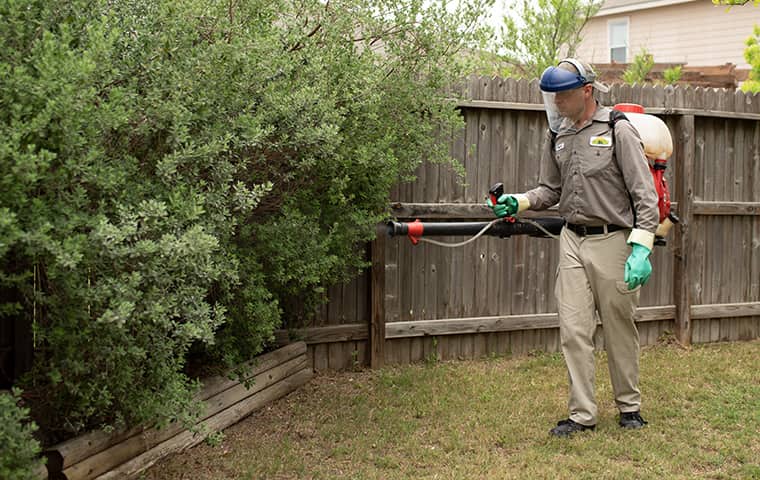 Family Pest Control Offers Customers Backpack Misting Service for Mosquito Control – San Antonio, TX
Every South Texas resident should be concerned about mosquito presence in their yards and neighborhoods. They have a painful bite which often leads to annoying skin itching and secondary infection from bacteria entering the scratched, open skin. If that isn't bad enough, mosquitoes also are capable of transmitting various diseases – West Nile virus, Zika virus, encephalitis, malaria, bird flu, and dog heartworm are among the more common maladies occurring in tropical climates including San Antonio. The current pandemic of Zika virus has not yet been transmitted by a Texas mosquito, as of yet, but the experts agree it is probable that it soon will be.
Family Pest Control knows that these mosquitoes can be a nuisance and danger for homeowners, which is why they encourage customers to purchase their Backpack Misting services and witness the benefits of a mosquito-free yard for themselves.
The Benefits
Right now Family Pest Control is offering homeowners their Backpack Misting service for $85 on the initial treatment and $65 for each consecutive month because they believe in all of their proven advantages. For one, misting allows exterminators to reach areas that are difficult to reach with conventional spraying equipment, like treetops and the underneath of leaves. The treatment has been proven through the University of Kentucky entomological research to immediately knock down an average of 95% of existing mosquito populations and then controlling 75% of the population for one month. It is also appropriate for some indoor use, especially in barns, buildings, workshops, and other non-residential applications.
How Does Backpack Misting Work?
Backpack Misting works exactly as the name implies. Modified leaf blowers are used to produce a powerful burst of fine insecticide mist. The spray process ensures that every crease and crevice that could be populated by mosquitoes and their larva is covered. The child and pet-friendly products work quickly to kill mosquitoes and interrupt their life cycles.
As a family-based business, Family Pest Control is committed to performing more than just mosquito control. San Antonio's Pest Control will not only spray your home for bugs but also target areas that many mosquitoes are known to breed, like standing water. Other services from Family Pest Control include the control, removal, and management of anything from fleas, ticks, spiders, carpenter ants, cockroaches, scorpions, rodents, termites, ants, bed bugs, and more!
To learn more about Family Pest Control and their full line of services visit their website at https://familypestcontrol.com/or call them directly at 210 – 681 – 5094.