Alamo Ranch, TX Pest Control Experts
Alamo Ranch, a residential neighborhood in San Antonio, Texas, offers a fun and exciting community to live and play in. To protect your Alamo Ranch home from the insects and rodents that also, unfortunately, call San Antonio home, reach out to Family Pest Control today. We have been treating families like they are part of our own family since 1981. Make sure you take a second to check out the rest of the areas we serve!
To learn more about our residential, termite, and bed bug control programs, give us a call today.
Residential Pest Control In Alamo Ranch, TX
Family Pest Control offers comprehensive, hassle-free plans to eliminate pests from Alamo Ranch homes. We offer four different affordable and effective home pest control plans for our homeowners to choose from: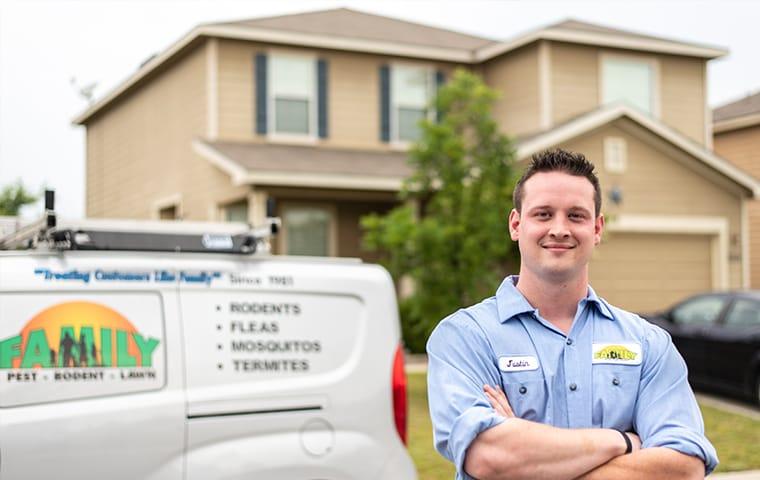 Family Basic Plan- basic home protection

Family Plus Plan- basic home protection, plus control against fire ants, fleas and ticks (outside), structural wasp control, and the installation of exterior rodent stations.

Family Complete Plan- basic home protection, plus control against fire ants, fleas, and ticks, exterior rodent problems, structural wasp control, crazy ants, and wood-destroying subterranean termites and carpenter ants.

Family Monthly Plan- a pest control solution that focuses on the outside of your home to stop pests from finding their way inside.
To have your home become one of the more than 10,000 homes that Family Pest Control protects from common household pests, reach out to us today.
Most Common Rodents In Alamo Ranch, TX
The most common rodents found living in and around Alamo Ranch include the house mouse, Norway rat, and roof rat. All commonly invade homes in Texas where they can cause damage, contaminate food, introduce diseases, and cause many other problems. To stop rodents from finding their way into and living inside your Alamo Ranch home, we offer comprehensive rodent control solutions. Our rodent control process includes: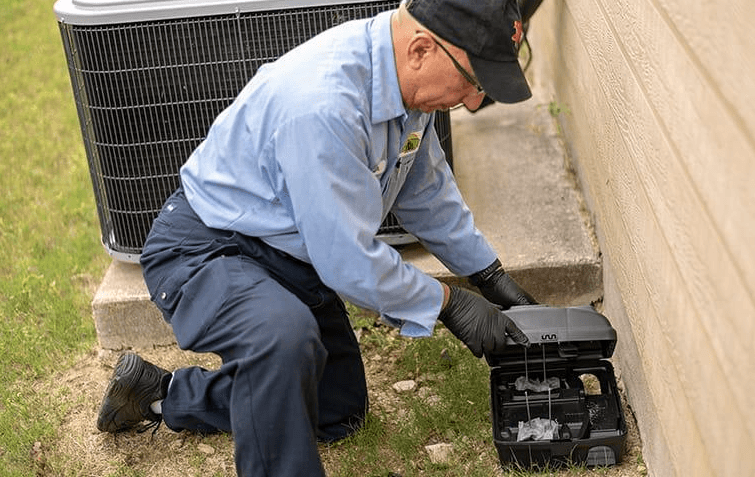 A free inspection to determine the type(s) of rodents in your home and how they are getting in.

An initial rodent treatment. We will install (but not set) traps in areas of activity so the rodents can get comfortable around the traps.

A follow-up visit where we return to set the traps and provide an estimate for exclusion services and rodent cleanup (if needed).

If a customer is not comfortable with re-setting the traps on their own after a catch, one of our professionals will return to take care of it for you.
For more information about our rodent control process or to schedule an inspection, give Family Pest Control a call today.
Guide To Avoiding Bed Bugs In Alamo Ranch, TX
Bed bugs are prolific pests that are slowly trying to take over the country. They can hitchhike their way into any home, including your Alamo Ranch home, any time of the year. The best way to avoid bed bugs taking over your home is to contact Family Pest Control at the first sign of them in your home. Our experienced professionals can find and eliminate all the bed bugs from your home in a timely manner. Our bed bug control process includes:
A thorough inspection

Treatment to eliminate and prevent bed bugs through the installation of a bed bug monitor in your home.

A follow-up visit one week after the initial treatment to retreat any areas of concern.

Another follow-up visit, 30 days after the initial treatment, to ensure the complete elimination of the infestation.

A complimentary 6-month bed bug warranty.
To make sure that your home becomes and stays free of bed bugs, reach out to Family Pest Control today.
Why Homeowners Insurance In Alamo Ranch, TX Does Not Cover Termite Damage
Homeowners insurance in Alamo Ranch, Texas does not cover termite damage for the simple fact that it could have been prevented. The significant damage that termites can cause to a structure does not happen overnight and can be stopped by partnering with a professional termite control expert. Protecting your home and bank account from extensive termite damage is as simple as reaching out to Family Pest Control.
For almost 40 years we have been treating properties for termites. Our comprehensive services find, eliminate, and prevent invasive, wood-eating termites from overtaking your home and causing expensive damage. At Family Pest Control we rely on Termidor® liquid treatments to completely eliminate termites from your property and home. Make sure you check out our reviews as well as our coupons!
To schedule a termite inspection for your home or to learn about all of our termite control solutions, contact us today.