Live Oak, TX Pest Control
Affordable and Effective Pest Control in Live Oak, TX
Our team here at Family Pest Control is committed to keeping pests out of Live Oak, TX homes. We work directly with homeowners to help them remove pests from their property and mitigate the damage that insects, rodents, and wildlife cause.
We accomplish this by using only the highest quality, most environmentally-friendly pest control removal products and techniques. This ensures the best value for money for the homeowner and the most effective response to their pest control needs in the long-term.
The Advantages of Choosing Family Pest Control
Full Service Pest Control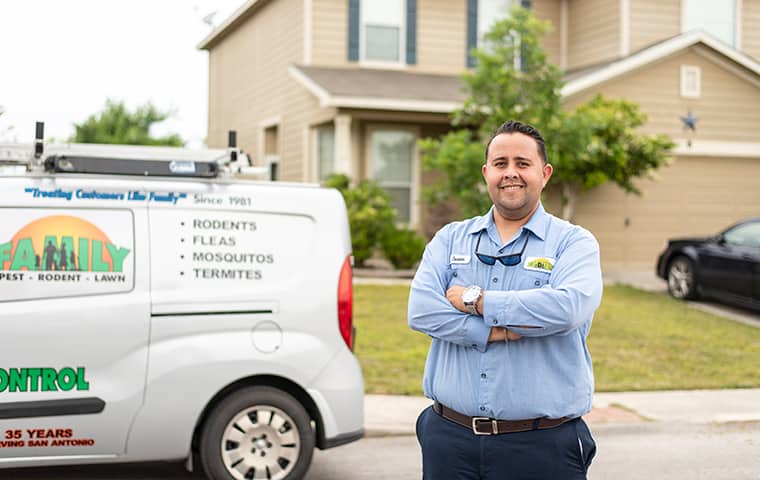 From our initial consultations through to the final review of the property, Family Pest Control is able to help guide Live Oak, TX homeowners through the entire pest removal process. We offer a range of monthly, quarterly, and annual treatments to help homeowners protect their property over many years. This means that Family Pest Control is a trusted partner in securing the family home.
Proven Performance
Family Pest Control is among the best-reviewed Live Oak, TX pest control companies within the local pest control marketplace. We've received numerous awards from local organizations and our services continued to be rated highly on local review sites. We credit these high ratings to our commitment to communication with our customers. We work to ensure their home is in peak condition and use our knowledge on pest control to answer each of their questions.
Responsive Services
When families discover a pest in their property, whether it's ants in the kitchen or a squirrel in the attic, the problem must be resolved immediately. We understand this issue completely, and that's why we've built a highly responsive removal service. Our team has access to a fleet of company vehicles and quality removal equipment around the clock to meet the needs of all Live Oak homeowners.
Whatever pest you're facing, we are here to help! Simply give us a call at 210-762-6991 or click here to request a free estimate!
Live Oak Termite Control
If you're a homeowner in Texas, you will encounter the dreaded termite. It's not a matter of if but when. Our Live Oak pest control service company, has been exterminating termites since 1981 and are ready to help you protect your home.
Our termite control specialists are well-versed in termites. In fact, they know everything necessary to combat these wood-destroying insects. What's more, they have the products and tools necessary to get the job done. Our team uses Termidor to knock termites out -completely. A highly effective liquid termite treatment, these pests don't stand a chance. We're so confident in the results, we include a one-year termite treatment warranty as part of this service!
If you've discovered termites in your home, swarming on your property, or simply want to be proactive in the fight against these pests, please contact us!
We Treat Your Home Like It's Our Own
Family Owned & Operated

As you can tell, family is important to us - so much so, it's in our name! We value your family as much as our own and can relate. We've been family owned and operated for nearly 40 years!

Effective, High Quality Work

Our main goal is to provide you and your family with the safest, most effective solutions for your pest problems. We'll prove it with our work ethic and customer service.

Woman Owned

We are an equal opportunity employer who values strong female leaders, not just as employees but also as customers!

Veteran Owned

At Family Pest Control, not only do we support your family and our community, but we also support our troops. We love to support veterans and veteran causes any way we can!
Top Tier Service

"We could not be more pleased with this top-tier service."

- Pablo M.

Exceptional Customer Service

"These guys are a prime example of exceptional customer service! It is now Saturday night and I can say with relief my apartment is nowhere near the way it was yesterday!"

- Monica A.

Scheduling Was Very Easy, Everyone Is Friendly and Helpful.

"The technician arrived on time and was professional, friendly, and helpful."

- Nick M.

Prompt and Polite

"Overall a great service, good value, and very polite and knowledgeable staff."

- Rosie K.

Top-Notch Service

"Very professional staff and friendly always on time and great communications via email phone and text messages to remind me of any appointments and services."

- Eva C.