Lackland, TX Pest Control
Trusted Pest Control Services for Lackland, Texas
Lackland is a Texas Air Force base located in Bexar County. The friendly professionals at Family Pest Control are dedicated to keeping the homes and families located in Lackland free of the many pests that also call this area of Texas home. We are the San Antonio area's premier pest control company, and customer satisfaction is our number-one goal. We offer guaranteed pest control services that are 100% effective.
To learn more about protecting your Lackland, Texas home and family from pests through our customized pest control services,reach out to Family Pest Control today.
Residential Pest Control in Lackland, TX
Having pests living in your home is more than just an irritation. Pests have the potential to cause structural damage, create health problems, contaminate food, destroy personal property, and cause unneeded stress. To guard your home against pests, we offer a range of comprehensive pest control solutions to meet all of your home pest control needs.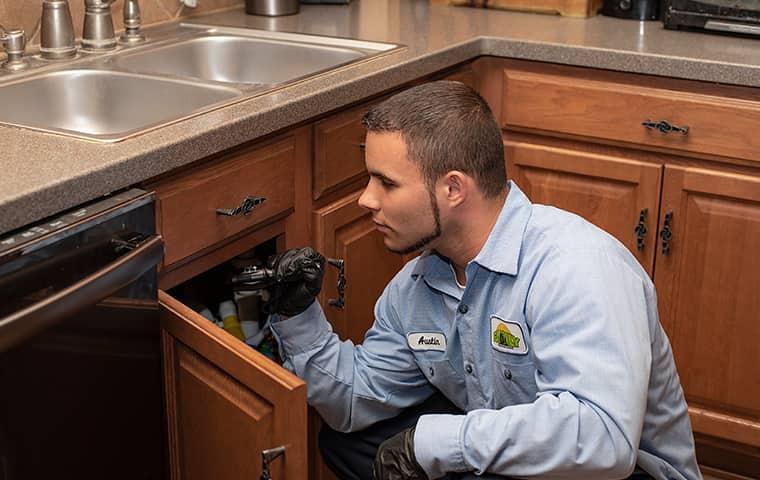 At Family Pest Control, we understand how frustrating dealing with pest problems in your home or on your property can be, which is we offer four comprehensive home pest control plans with varying levels of pest protection: Family Basic Plan, Family Plus Plan, Family Complete Plan, and Family Monthly Plan. With these plans, you can get the quality pest protection to fit both your specific pest control needs and your budget!
In addition to our residential pest control plans, we also offer the following services to help keep your home pest-free all year round:
Pest control clean-outs
Quarterly maintenance services
Total yard treatments
Flea treatments
Fire ant treatments
Carpenter ant treatments
Mosquito control services
Lawn and ornamental services
To discover which of our residential pest control options is the right fit for your Lackland, TX home and family, give us a call at Family Pest Control today.
Damage Carpenter Ants Cause in Lackland, TX
Out in the environment, carpenter ants are extremely beneficial, helping to break down decaying plant materials and promoting new growth. However, when these large ants find their way into homes and other buildings, they turn from helpful to destructive.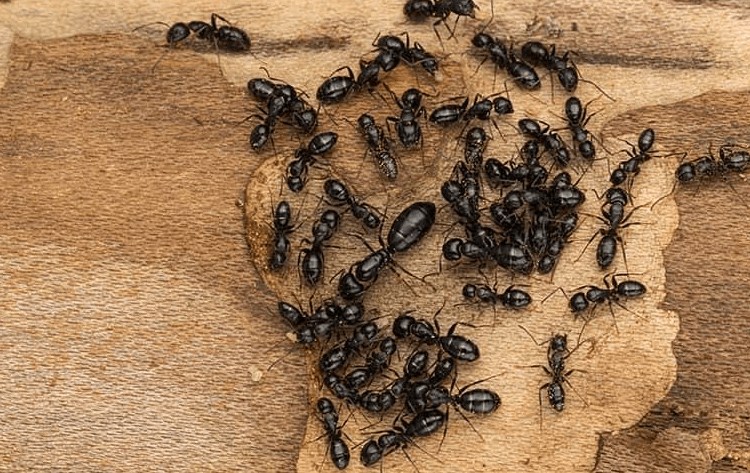 Carpenter ants invade structural wood in order to create tunnels and nesting galleries, however, unlike termites, they don't feed on wood, they simply hollow it out. Since carpenter ants aren't actually feeding on the wood, it takes a bit longer than termites for them to do enough damage to impact the structural integrity of a home. However, if carpenter ants are allowed to nest inside a home for an extended period of time, the damage they cause can become significant. They first attack moisture-damaged wood, but over time will nest in sound wood as well.
To prevent problems with carpenter ants in your home, partner with Family Pest Control. We can provide the carpenter ant control services needed to completely solve the infestation and prevent a re-infestation. To learn more, give us a call today.
Learn How to Avoid Bed Bugs in Lackland, Texas
Avoiding bed bugs should be at the top of everyone's to-do list! Bed bugs are invasive creatures that can be difficult and stressful to deal with. While there is no surefire way to completely avoid coming into contact with bed bugs, there are a few steps you can take to limit contact with them.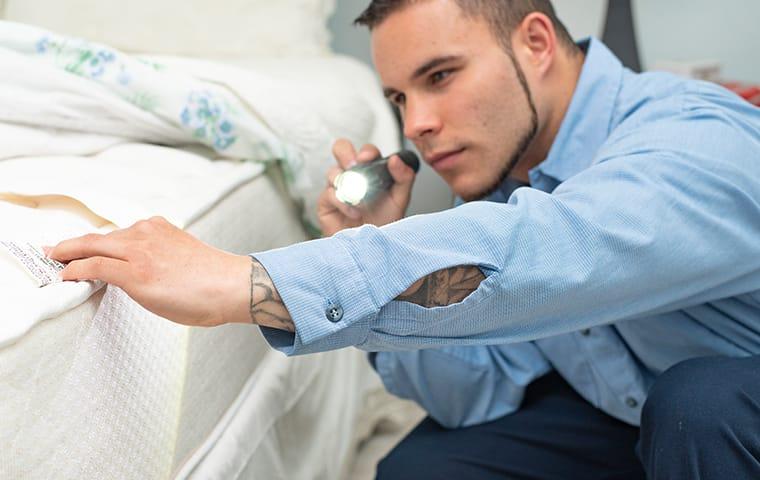 Never purchase used furniture, mattresses, or box springs for use inside your home.
Before bringing personal belongings into a hotel room, inspect it for signs of bed bugs.
Never leave personal belongings including purses and coats on the floor of a public environment.
After having overnight guests, immediately wash bedding and vacuum the room they stayed in.
Regularly vacuum your home, paying close attention to baseboards, cracks in the floorboards, the edges of rugs, and seams around mattresses and upholstered furniture.
If bed bugs do manage to hitchhike their way into your Lackland home, know that Family Pest Control has fast and effective solutions. To eliminate bed bugs, our professionals identify the infestation, provide treatment, and complete a final analysis to ensure they have been completely removed. To learn more about our bed bug control solutions, please give us a call today.
Why Homeowners Insurance in Lackland, TX Will Not Cover Termite Damage
Termites are difficult pests to prevent, but they are not an impossible pest to prevent, especially when partnering with a professional. Protecting your home from termites is very important because they can cause extensive damage that is costly to repair. Homeowners insurance does not typically cover termite damage, adding to the potential cost of repairs. This is because they view the damage as something that could have been prevented.
To eliminate current problems with termites and prevent future problems on your Lackland, TX property, Family Pest Control offers termite control treatment options that meet the unique needs of any home or budget.
Trust our professionals and guaranteed treatments to protect your home and bank account from termites. To learn more, give us a call today!
We Treat Your Home Like It's Our Own
Family Owned & Operated

As you can tell, family is important to us - so much so, it's in our name! We value your family as much as our own and can relate. We've been family owned and operated for nearly 40 years!

Effective, High Quality Work

Our main goal is to provide you and your family with the safest, most effective solutions for your pest problems. We'll prove it with our work ethic and customer service.

Woman Owned

We are an equal opportunity employer who values strong female leaders, not just as employees but also as customers!

Veteran Owned

At Family Pest Control, not only do we support your family and our community, but we also support our troops. We love to support veterans and veteran causes any way we can!
Top Tier Service

"We could not be more pleased with this top-tier service."

- Pablo M.

Exceptional Customer Service

"These guys are a prime example of exceptional customer service! It is now Saturday night and I can say with relief my apartment is nowhere near the way it was yesterday!"

- Monica A.

Scheduling Was Very Easy, Everyone Is Friendly and Helpful.

"The technician arrived on time and was professional, friendly, and helpful."

- Nick M.

Prompt and Polite

"Overall a great service, good value, and very polite and knowledgeable staff."

- Rosie K.

Top-Notch Service

"Very professional staff and friendly always on time and great communications via email phone and text messages to remind me of any appointments and services."

- Eva C.